Much of your daily life is centered around the kitchen. You can easily manage the hustle and bustle of life with the help of a well-designed kitchen remodel. Here at Norm Hughes Homes, our team is here to help you find custom features to enhance the personality and functionality of the kitchen in your Metro Atlanta home. Here are some before and after photos to showcase some of the many kitchen design features at your disposal when you work with Norm Hughes Homes.
Waterfall Island
Installing or upgrading an island is one of the easiest ways to make the most of your kitchen space. This central space provides a large prep area, dining spot, and room to entertain your guests. Waterfall islands are a great way to showcase your style by creating a focal point of fluid, modern design in your space.
Ornate Backsplash
Not only does a backsplash make cleaning and maintenance more manageable, but your material choice also highlights your personality. Whether you prefer white marble, elaborate patterns, colorful tile, or stone, your choice of backsplash sets the tone in your remodeled kitchen.
Bold Cabinets & Light Fixtures
Your kitchen isn't just a functional space for fixing meals. Using bold cabinet colors can show the depth of your unique style. Additionally, you can warm up your space with modern central lighting, like these large globe fixtures.
Integrated Refrigerators
If a clean, contemporary look is your style, there are many different designs that can streamline your kitchen aesthetic. An integrated refrigerator door allows your largest appliance to be hidden in plain sight in your kitchen. You can spot the fridge if you look closely, but it fits in perfectly with the design of the cabinetry.
Create Your Dream Custom Kitchen in Atlanta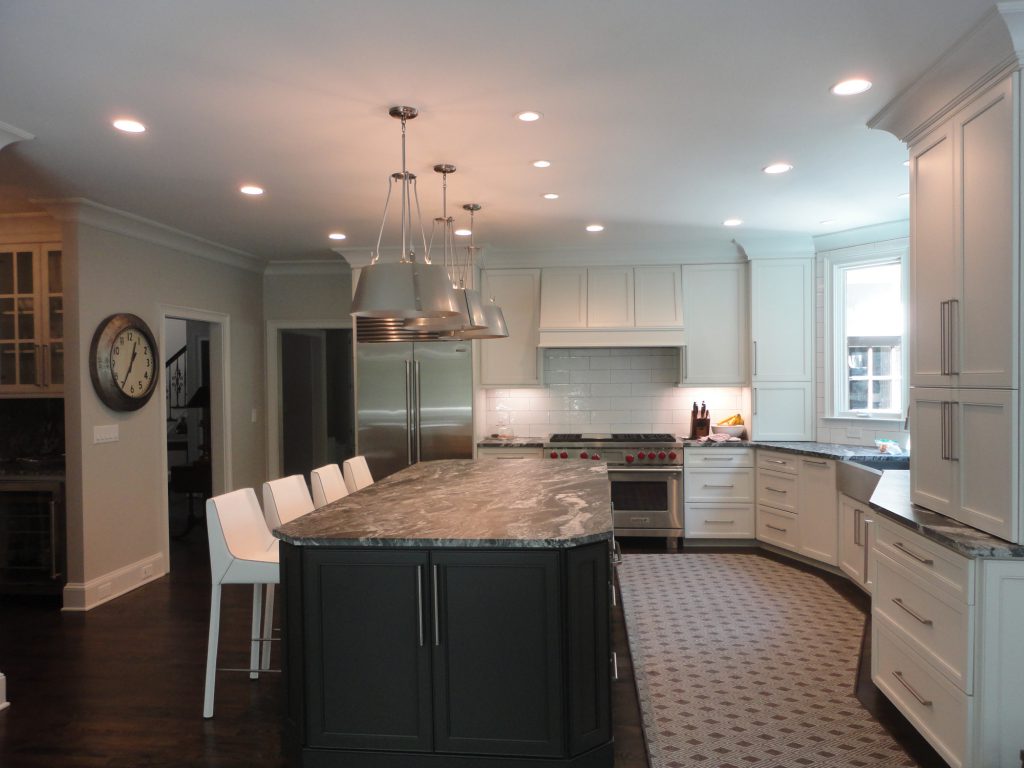 Regardless of your desired remodeling features, your dream kitchen is closer than you think. We're ready to put our decades of experience at your disposal, and help you navigate the remodeling process, from design to building. Call us today to get a free quote and learn how we can make your dream kitchen a reality.